Testimonials - Shimmering Ivory
Read about real brides having a stunning dress made for their special day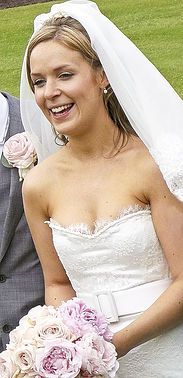 Nia Jewell
"From my very first phone call, my experience with Shimmering Ivory was absolutely perfect, none of the other seven shops i visited could compare! Sian is so lovely and very knowledgeable, she took me through every detail of material options and dress styles to suit my body shape while listening intently to all my ideas. Alterations, attention to detail, nothing was too much hassle. You are also given an honest opinion, something I valued. Sian's background in lingerie was an extra bonus as i was measured and every inch of material was there to support my shape. I cannot recommend Shimmering Ivory highly enough. I shall send alot of my friends in her direction. Thank you so much, diolch o galon!"
Nia Jewell .
"When I turned to see my wife walking down the isle all I could think was "wow". Also, during the months leading up to the wedding day my wife was completely relaxed (most of the time!?) and I know a lot of that was due to Sian's expertise making her feel looked after and confident so diolch Sian!!"
Gareth Jewell.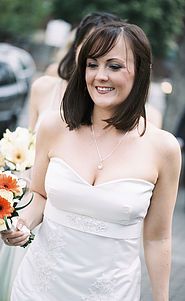 Casey Thomas
"It was such a great experience working with Sian from beginning to end on creating my ideal wedding dress.  I had tried on so many dresses in shops and nothing felt quite 100% right and, for such a special day, I wanted a dress that felt special.  I took a few ideas to Sian and she started to sketch a dress for me and it just moved forward from there really including picking fabrics and putting together a mock dress to see exactly what shape suited me best.  It was amazing to have something at the end which, essentially, I had designed myself (with a huge amount of help from Sian of course!) and it meant that I didn't have to compromise on anything, like is often the case with dresses off the hanger in a shop.  What I especially liked was Sian's commitment to getting things just how I wanted – if there was something I wasn't sure about Sian would keep brainstorming and working on ideas until we got everything just right – she was a real pleasure to work with in that respect and it never felt like I was under pressure to make decisions too quickly.  I would recommend working with her for anyone that would like an individual, beautiful dress that will be yours and no-one else's!"
Casey Thomas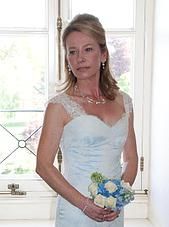 Ruth Sealy
Just a note to say thank you SO VERY MUCH for making my PERFECT dress that had been in the back of my mind for many a year and you made it a beautiful reality. It was so lovely of you to be there on the day. I felt incredibly calm right up until the last minute as I just felt in the very safe hands of three professionals in you, Mina and Chloe, so thank you again for those recommendations. I hope it's not a bad thing to say but I did actually feel beautiful all afternoon, thanks to the three of you!
Ruth Sealy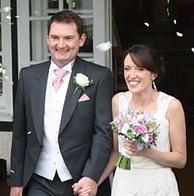 Lisa Harrow
I just love, love, love my wedding dress!  Sian Hughes Cooke is simply amazing and has filled me with confidence throughout the process of designing my dress.  I have felt completely at ease and in such safe hands.  Sian's creativeness shines through, she is a true perfectionist, with great attention to detail.  Her talent is clear to see, she know the difference the slightest tweak will make to ensure the dress is an absolutely perfect fit.     I honestly couldn't be any happier with my dress,  it totally exceeds my expectations and I can't wait to wear it (although I will miss coming to see you!).  Thank you so much Sian!!"
Lisa Harrow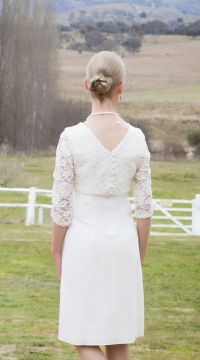 Liz Redmond
I feel so fortunate that I found Sian. She is stylish, creative and passionate about what she does. And a total delight to work with too. I was preparing for my winter wedding in Australia and had not seen any dresses I liked in the shops or on-line. Sian made me the most beautiful dress which was exceptionally well tailored. It fitted me perfectly and was in a classic style which I like best. She also helped me piece the whole outfit together, made me a great fur neck wrap and even decorated my shoes with lace! These were all her ideas and suggestions, and they were beautifully finished by hand. My outfit attracted many genuine compliments and I think these belong to Sian, for her flare and excellent taste! Thank you Sian for being with me throughout the important preparations for my wedding and for helping to make it the most special day of my life.

Our wedding was the most amazing day (I can honestly say it really was the single best day of my life!) and your dress was a real hit, lots of wonderful and genuine compliments. My cousin's french wife said I looked 'chic'
which I think was a huge compliment to you on your creation and tailoring! Thank you for your wonderful attention to detail and your splendid advice on the whole outfit and how it might all be fitted together. The shoes also were remarked upon by quite a few people, not surprisingly!

Liz Redmond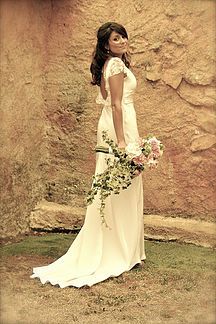 Sara-jane Millar
I chose Sian at Shimmering Ivory to design my wedding dress as I wanted an elegant lightweight quality silk gown for my wedding abroad - something I'd found difficult to source in the dress shops I'd visited all over London. Having built up a wealth of experience across the globe at high profile designers, it is evident Sian is very talented and knowledgeable, and could create any dress style I had in mind! She uses high quality materials which are crucial for creating the perfect look. Sian also recommended styles that would suit my body shape, and was always patient, calm and fun throughout dress fittings. From the start of the design process Sian was very receptive to the ideas I had for my dress, and we worked together to test ideas and come up with the perfect style for me. I thoroughly enjoyed working with Sian and would highly recommend her to any bride who wants a bespoke high quality wedding dress.

Sara-jane Millar