London Wedding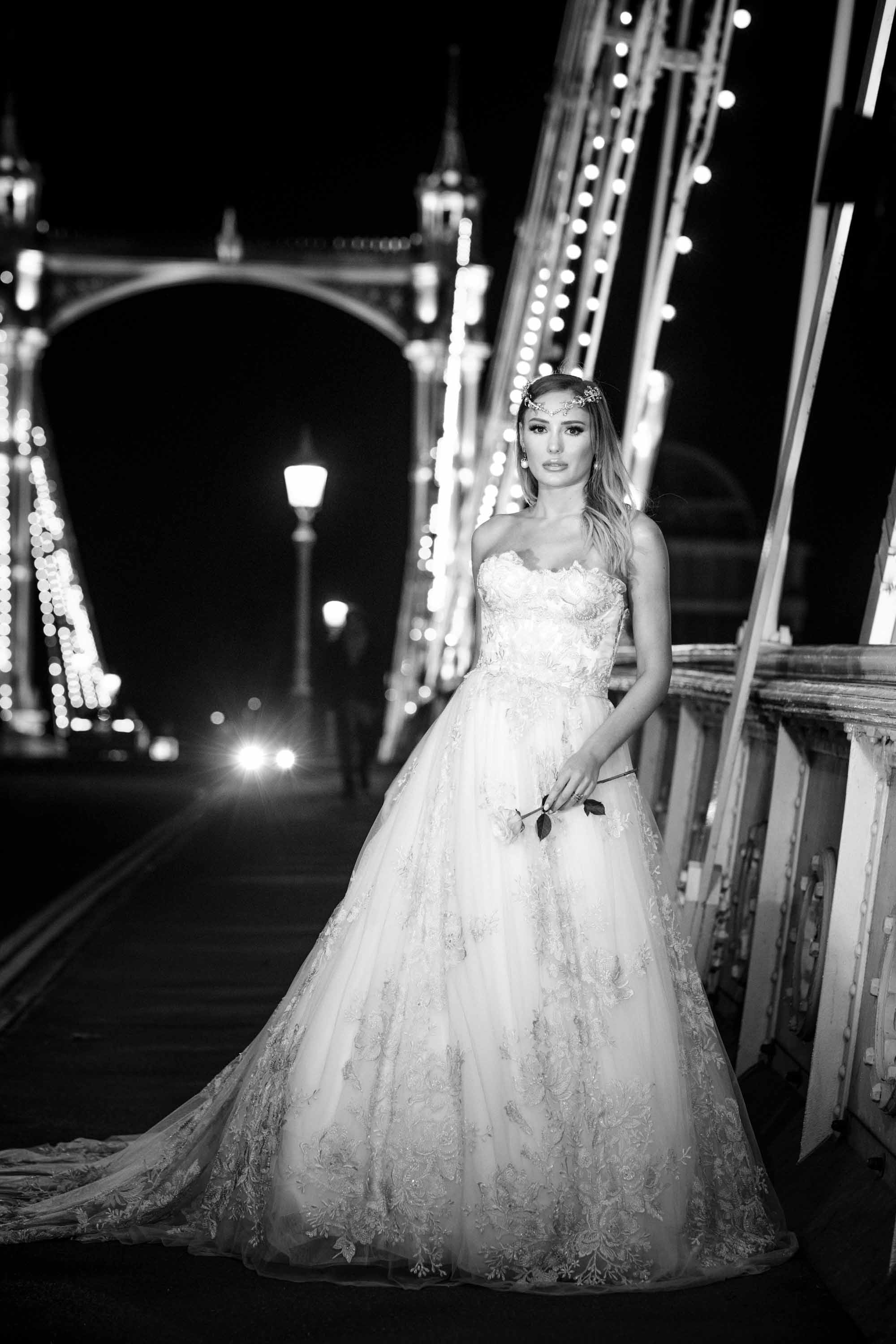 photo credit : muse motion
It's central London on a freezing cold night. A dazzling bridge shines bright and in the distance the city skyline glows. From an iconic black cab emerges a bride in a one-of-a-kind blush pink embroidered Shimmering Ivory gown, designed with passion by Sian Hughes Cooke. On her feet are dainty lace Aruna Seth heels adorned with a beautiful diamante butterfly. A sparkling crystal and rose gold crown by accessories designer Victoria Percival provides the perfect finishing touch. She looks as if she's stepped straight from the pages of a fairy tale.
Our talented photographer / videographer friends at Muse Motion helped the love story of a couple reunited in London come alive while showcasing one of our favourite bespoke gowns.
We recognise that although people are having micro weddings, the wedding dress is still of the upmost importance to the bride. Whether you are having a London, city or more rustic wedding the gown provides a key part of the beauty of your special moment.
With help from creative consultant Anisha Vasani we could style blogger and influencer Georgie Clarke in a way that truly represented Shimmering Ivory- effortless but undeniably glamorous. Photoshoots in London are important as they exemplify that we are a British brand whose dresses are hand stitched with love in Hertfordshire.
Once again, this shoot was truly a team effort. From the fabulous makeup by Tanjia Sayed, to the hair by Annabel Rose Hair and Beauty, the 'glam team' were out in full force. For the first time, we were lucky enough to work with a luxury menswear brand from Berkhamsted, and William Young's timeless suit matched our dresses perfectly. Those involved enabled us to truly capture the essence of what it is to get married in a Shimmering Ivory wedding dress.
Georgie and her partner Ben went above and beyond in their efforts to transform into their characters but also remain as warm as possible in the bitter cold. The beauty of using a real couple is that the chemistry was infectious and provides authenticity and Georgie is an influencer that really represents the beauty of real women.
By the end of the shoot all our hands were numb with cold and even just the taxi's warmth was inviting. The limited time to shoot alongside the bustling venue meant time flew by. We couldn't have been happier with the shots (even if we're still warming up!). The question is… where will Shimmering Ivory be travelling next?
Hertfordshire, Wedding Dress, Georgie Clarke, love Island, London Wedding , Survival of the fittest, designer dress, bridal gown, london designer